Team-Building and Creative Thinking Challenges
Some of our favorite activities come from the work of Jim Cain at Teamwork and Teamplay.
As we progress in introducing team and community building activities we are expanding the types of challenges we offer the Maker Rings.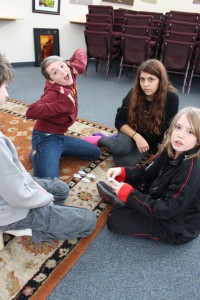 Arrowheads, From Teamwork and Teamplay
Download here
For this lesson we gave each Maker Ring an envelope with some shapes in them. The Rings were told that their challenge was to build 6 Arrowhead shapes from the pieces. There was one piece they received that was a whole arrowhead. This was used as the example. Their goal was to create 6 arrowhead shapes from the pieces they were given.
The groups eagerly took on the challenge. Their comfort level within their Maker Rings is increasing and they are not as self-conscious as they were at the start in the group. They laid out the pieces on the floor or on the table and got started.
They first saw that they could make a few arrowheads, discount but not the 6 that they were asked create.
We announced the first "Clue".
"Less is More".
They went back to work.
We were called over to groups a few times to look at their attempts to create the 5 arrowheads. Although they were creative, they were not the solution.
Along came another clue from the facilitator: "Do you feel like you are missing something? That you don't have all you need to meet the challenge?"
They answered, smiling "Yes, we are missing something," and looked at us like hopefully, wishing we would solve the challenge for them. They were disappointed to find out that they already had all the pieces they need to solve the puzzle.
Next clue: "What is inside is outside".
"The absence of space is space.".
They were starting to get frustrated. The Maker Ring consisting of the oldest students in our group was on task consistently. Their frustration was only making them want to solve this puzzle first. The youngest group was losing interest.
Finally one of the groups solved the puzzle. They called us over to see and sure enough, they had figured it out. They felt great about taking on the challenge, working it through, and being rewarded with an answer.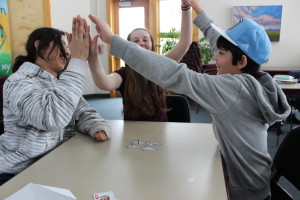 Their enthusiasm gave other groups the push they needed to make some additional connections. Before long 3 of the 4 groups had solved the puzzle. Eventually one of the older students came over and showed the group of younger students how it was solved. Everyone was happy and relieved to know the answer!